Shopping Cart
Your Cart is Empty
There was an error with PayPal
Click here to try again
Thank you for your business!
You should be receiving an order confirmation from Paypal shortly.
Exit Shopping Cart
Abundant living through the healing of the mind, body and soul.
Recently I spoke with a friend of mine who is experiencing intense grief due to a  tragic loss of a beloved.  I too have had many losses this year.  More than most people experience in a life time let alone a year., so I have been told.  My losses may not be as great as my friend's loss, but I am finding that grief can be a relative term.  In talking about ways to cope with grief through distractions, the thought came to me that we never lose that grief.  I used to think that when that horrible tearing pain of grief ended I would be able to move forward.  And until that happened, I would seek distractions to help me through the grief.  The reality is that the hole that grief bores in our heart stays and morphs through time.
A thought popped into my brain about the need for distractions to walk through grief. Allowing the quest to find beauty in the midst of my grief becomes my distraction. Allow living abundantly however that may look for me, be my distraction to grief. As heavy laden my heart, may I quest to find beauty again.  And I am finding that in the midst of discovering beauty, I might cry.  Crying is the pressure valve to my heart-a sacred act of worship.Tears are treasured by the Creator.And they can help, even but for a brief moment to wipe the scales of grief from my eyes.
I mustn't fight grief; rather embrace the searing pain of loss that makes beauty even more brilliant and precious when discovered. Beauty is beyond the darkness. Like faith, beauty exists. It is a part of the focus when I open my eyes, even just a wee peep to see the harsh light of my fractured, fragmented brokenness, that becomes the beautiful stained glass mosaic of my life. Living is previous, fragile, painful, bittersweet, and beautiful. I am discovering all at the same time.
Grief cannot be avoided.  Grief is an inevitable part of life. I cannot run from it, I cannot hide from it. From the time we are born, we are dying. It is an undeniable and ever present cycle of life. And just as the four seasons of life it has its' place. Fall is necessary for death and decay to nourish new life.  Oh, the brilliant colors of Fall. Winter is a time of rest and the killing of  harmful germs amidst the frigid sparkly blue cold of newly fallen snows that echo the quiet stillness of the earth.   The Spring that brings renewal-new life-abundant life.  The trickling of melting winter that heralds in the first peep of tender new life springing up through the thaw.  Then comes the hot searing sun of Summer.  A time to play, explore and start the harvest for the coming winter.
We all deal with grief differently.  No one can tell us how we should dance to the tune of grief.  It is a journey that is as individual as our thumbprints.  Grief is a dance partner that steps on our toes when we least expect it to happen.  Grief is the sucker punch of life that takes our breath away.  Beauty is the inhale of living.
I have come to realize that we basically are holding our breaths in life.  When a babe is born, the first gulp of breath is a great lusty inhale.  And the last breath of earthly life is an exhale that can be as lengthy, agonizing or as suddenly as it takes to leave our bodies.
Holding my breath is exhausting at best and deadly, as grief can be.  Those moments between breaths, like those moments between thoughts are where peace abides-Divine love.
BREATHE---BREATHE DEEPLY---BREATHE IN ABUNDANCE---BREATHE DIVINE LOVE

Namaste and Abundant Blessings---
Heidi
Psalm 121:1-2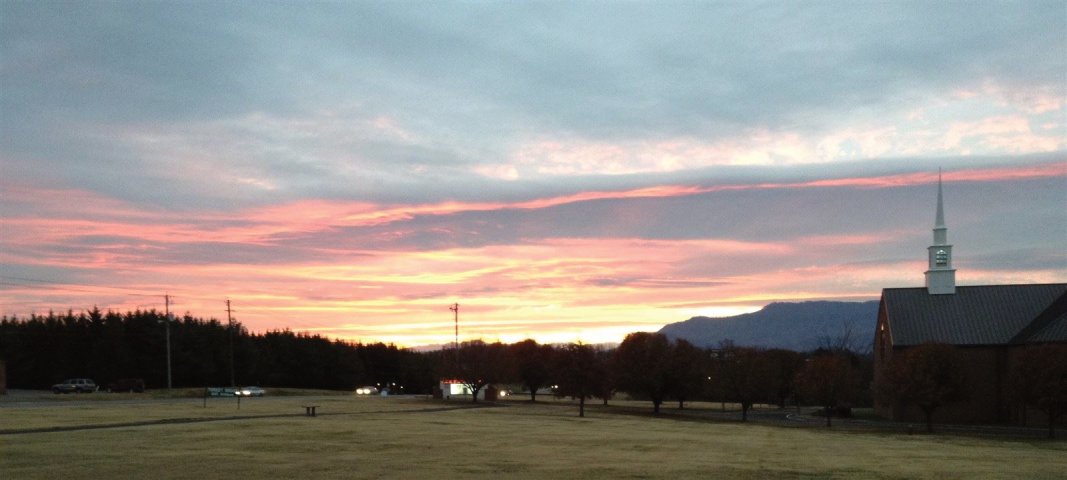 In 2010, I had hit the track before dawn to walk off my already anxious day. The full moon hung like a rare pearl nestled in the gray velvet folds of the night sky.  I asked Abba to please give me a sign of hope that I would get through this very difficult time in my life.  As I started my third and final mile of my daily walk, I noticed the atmosphere grew darker and the temperature drop a few degrees as it always does before the dawning of each new day.   
I waited in great anticipation for the first chirp of the morning which would lead to a second note of awakening which would bring on a glorious symphony of song much like Handel's Messiah, heralding in a new day with new mercies.  As promised, I heard the first note and as I rounded the bend on the track, I looked up at the night sky which winked the first hint of dawn.  The outline of the mountain range still shrouded by night began to appear and like faith, the mountains were always there as they had been since the dawn of time and will be long after I leave this earthly realm, I just couldn't see them through the darkness.  I watched the night sky turn a salmon pink hue and the pinnacles of the mountains began to barely cast a golden glow.
And just as I caught my breath at the beauty of the sunrise, a gentle quite voice roared like a great ocean wave crashing on the dry shore of my heart, "The same Creator, whose hand paints the first salmon swatch of a brand new day, creates new mercies just for you. Mercies not left over from a day that is gone and never to return, nor mercies borrowed from a day not yet created nor promised.  But brand new mercies made for this brand new day just for you, Heidi, for such a time as this". 
The infinite Creator who hung the rare pearl of a full moon against the midnight gray velvet sky had me snuggled very close to the Divine heart which beats as one with mine.  The tears in my eyes which had bogged my steps dried like diamonds, and my step quickened for I knew that my petition for hope had been answered and my faith strengthened---JUST FOR THIS DAY---.
As I came off the track, the birds were in full chorus singing to my now uplifted heart the psalm of ascents sung by the ancient shepherd boy king, "I lift up my eyes unto the mountains-where does my help come from?  My help comes from the Lord, the Maker of heaven and earth" (Psalm 121:1-2).
Oh, Holy One of Many Names, thank you that your mercies for your beloved children are new every morning.  Make us aware in a very real way, as only you can in our individual lives, how very close you hold us to your heart and that your love for us is eternal.  Amen. 
It is a universal truth that mourning lasts but for the evening and that joy comes in the morning.  Upon the dawning of a new day when our Creator paints those wide swatches of salmon pink upon the gray canvas of the dawn sky that those new mercies are created.  They are mercies not left over from a day that is gone, nor are they mercies borrowed from a day that has not yet been created nor promised.  Those new mercies are made uniquely for the new day that has been created.  They are mercies that are there for the taking and are as unique to us as individuals as our thumb prints.

When I was a little girl in Girl Scouting, we were making a Mother's Day gift.  It was to be small keepsake picture that used my thumb print as the body of a mouse.  I presented this small token to my Momma, and with great delight as if I had just presented her with a priceless masterpiece she hung this small wooden framed picture on a tack in the breakfast nook and where it remained until my parent's estate was dissolved. I ran across this memento while unpacking my belongs. With great care did my Mother keep that reminder of the uniqueness of her daughter. 

With even greater care does our Creator make the uniqueness of those mercies that are created for us with each new dawn.  And with even a greater love than a mother for her child does our eternal parent love and care for us.

Be encouraged that whatever you may be facing at this moment in time new mercies will meet you right where you are at.  The night can be long and intolerant and the pain never ceasing.  Push through knowing that there are brand spanking new mercies waiting for you upon the dawn.
Here is the thing about this thing called love.  It can be thrilling, it can be tantalizing, it can be tenacious and sometimes it can be exhausting.  But the thing about love is that it can't ever be forgotten.  What love people give to others great or small is sacred.  Whether together or a thousand miles apart or on another realm, love cannot be destroyed, the bond is eternal.
Love can be wounded.  Pictures can be deleted.  The physical presence can be gone.  A computer reset and love letters burned.  But love is indelible, marked in the memory and engraved on the heart.  Every look, every wink, every breathless moment of love can never be taken out of the universe or the minds' eye.

But do you know what really is amazing about love?  It far transcends some silly little man in a diaper holding a bow and arrow.  Love never dies like a dozen roses.  And love is as delicious as chocolate and the only weight that is added is to the heart!  So, now with the Beatle tune blasting in this old girl's head----

"All we need is love. wah, wah wah, wha, wah.  All we need is love. wah, wah, wah, wah, wah. All we need is love, love.  Love is all we need."
---I encourage you never to put up a Chinese fire wall of fear when it comes to love. 

Relationships may fade away.  The fire wall may burn down and love may ebb but it never really goes away.  It has been released into the universe.  Imagine the eons and eons of love that has already been released.  How time and eternity would change if we truly understood and harnessed that love. 

Love freely.  But first, love yourself freely.  Only then can you truly know how to love another.  Don't be afraid of letting that love fly free.  Always hold love with an open hand for it is not yours to own.  If it is time to set it free, release it with blessings and let the tears nourish the soul.  And watch it fly to heights unknown.  Be grateful that you were given the gift of love.  And like that old corny poster that was plastered on my teenage bedroom ceiling mused- it might come back to you. 

Even then, if love is truly set free, there is no expectation or thought of it coming back.  There is however, the anticipation of watching perhaps from afar that love burst into a million brilliant stars and light up the night sky.  The love that is within you can also burst into a million brilliant stars and light up those in your world.   Release the love and watch it grow.

©2014 Heidi Parunak/TrinityFactor.info.  All  rights reserved.  This material may not be published, rewritten, broadcast, recorded or redistributed without express permission. 
July 16, 2013
I awoke early, too early, I thought.  3:39 AM to be exact.  My head and shoulders wracked with pain from a neck injury I incurred this past January.  Not being one for conventional chemical intervention, i.e. an aspirin or other pain relievers of the kind, I knew that if I could lay on the grass, the pain would be absorbed into the earth.  Did you know that the earth has a beat, like a heart beat?

As I lay on the cool grass just before the dew, I heard an old hoot owl.  That ancient rhythmic chant of an amazing bird lulled me into a meditative state.  As the pain absorbed into the earth and my headache waned, I turned over to look at the night sky.  Stars shone bright on the black/blue velvet background.  An occasional wisp of a cloud floated across the sky scape. 

In over thirty years of living on this tiny plot of land, I have never heard the owl.  I remember as a girl, there was an owl who lived in a tree outside of my bedroom window.  I would listen to his comforting call.  That old bird gave me a sense of security and continuity in a world that was rather chaotic. 

So, as I allowed the earth to do its' mysterious cycle of pain absorption and release of healing energy into my body, the chant of the owl and the brilliance of the night sky renewed my body, mind and spirit for another day.  In a few hours, the morning sky will appear.  I will take my walk and enjoy the sounds, sights and smells of the morning.
As sure as the sun sets, the sun will rise. I always look forward to seeing those broad strokes of color that come with the dawning sky right before the sun appears over the mountain range.  It is literally always the darkest before the dawn.  The atmosphere is also cooler along with the darkness.  And then a sure as I am sitting here, a new day dawns bright.  A brand spanking new day full of hope, promise and mercy.  New mercies for a new day.  Mercies not left over from a day that is past, nor mercies borrowed for a day that is not promised. 

ENJOY THIS GIFT OF NEW DAY

NAMASTE and ABUNDANT, ABUNDANT BLESSINGS,
Heidi

©Heidi Parunak/TrinityFactor.info.  All  rights reserved.  This material may not be published, rewritten, broadcast, recorded or redistributed without express permission. 
Hiking, gym, cooking, gardening, writing, dogs, new floors, more hiking, more gym, gaining momentum and energy, strength and endurance.  It has been three months since the CHM 2013 and I feel as if I am just now getting used to not seeing the BWCT 2013 team, manager, and coaches.  For weeks after the team disbanded I felt disconnected.  I felt like something big just happened in my life and I let it slip through my fingers. 
I found myself regretting a lot about those five months.  If only I was the person then that I am now.  If only I had worked harder and cried less.  If only, if only, if only, if only.....  Then one of those proverbial "What light through yonder window breaks" moments happened.  I would not be the person I am today had I not been on that team with those people at that moment in my life.  Had I not struggled through some very dark moments and crossed that finish line (eventually) I would not be as well, content, strong and vibrant as I am today.
I fill my day's with just "doing life".  I start the day at the gym-early-with music or meditation.  While I am finishing up, I read The Wall Street Journal, The Huffington Post, The Boston Globe and The Washington Post on my phone.  I go home, clean up and start the day.  Seems dull and boring.  It is a rhythm of life that I am following at this point in time.  I am part of a duet at the fellowship I attend.  When I lift my voice to sing, I get lost in the moment never wanting to forget the decades I spent not being able or wanting to listen to music let alone sing.
Everyday is different.  I awake wondering what the day is going to hold and be open to anything that may come.  I see my hospice patients as they need me.  On those moments when I feel the slightest angst at not had made something of myself, I have to remember where I came from.  I have to remember that I no longer live behind a veil of tears.  I have stepped into the marvelous light that sometimes blinds me with its' brightness.  I am loved and I can give love.  I am aware of life.  Those wonderful moments of going home to my beloved mountains hiking in my zone only to find myself singing with birds and the breeze that rushes through the trees.  Those moments I know that I will live forever.  I wonder if that what it means by being changed from glory to glory.
This week when I went home, I made a comment that if I came up MIA, it is because I found the portal to my bliss.  Perhaps I am walking that divine path that was intended.  This is a good thing.  The future is mine for the taking.  It is mine for the making.  As is the NOW that I live.  Have a safe and cool summer.  BE WELL!
Namaste and abundant, abundant blessings!
Heidi
This past week of rains flooded a lot of farm land here in Sevier County.  I don't remember having  seen such flooding in this area.  The river at the greenway was swollen and angry.  Waves crashed against the pilings of the bridge and the banks of the river had seemingly disappeared.  The day was gray and bitter cold.  An awesome sight to behold.
I was reminded of the winters of my youth.  We children always looked forward to skating on the farmlands that would flood and freeze during winter rains.   With great anticipation we would take our skates which buckled across our boots with leather straps and away we would glide.  Our giggles and laughter filled the winter air.  We knew that at the end of the day there would most likely be hot chocolate waiting.
Shouts of "Watch me!"  and "Wheeeee" rang out as we all tried to "one up" each other on how far we could  glide and how high our jumps could be on those frozen fields.  Inevitably in our excitement we wouldn't see those few frozen cow patties until it was too late.  Down with a thud we would fall.  There is nothing more disappointing and irritating than to have a perfect glide be stopped by a trip over a frozen cow patty.  ESPECIALLY when you KNOW you are skating on Jersey cow territory.
We learned very quickly what would become a valuable life lesson.  When one falls on a cow patty frozen or not, it is imperative to get back on your feet quickly and skate on as not to wallow in the stench and stain.  It is good to remember this lesson and look ahead for potential patties.  Frozen or fresh cow patties STINK.  The stink can linger on your clothes and hair until you can wash off.  SO-it is quite beneficial to look ahead and be AWARE of your surroundings as much as humanly possible.
Life is full of cow patties AND cosmic sucker punches.  Those sucker punches which take you to your knees and take your very  breath away.  Sucker punches that can stub you up and bring on rage and anger.  This earthly life is so brief.  I don't want to stay in the anger or stench of the those inevitable life issues whatever they may be.  I am learning to push through those overwhelming times so I can hear laughter and see the beauty around me once again.  When I chose to push through and live at peace with others and myself it takes me to levels of awareness and clarity I would not have known.
I encourage you today to live in the abundance of NOW.  In the midst of whatever is ugly there is beauty.  Where there is anger there is peace.  Quickly chose to find the positive reflections NOW.  Change focus.  Look to the sky and enjoy what it holds.  Enjoy the elements.  Hug those you love great and small.  Hug those who seem unlovable.  They too come from hands of the One that created you.  This life is ours for the taking.  Be at peace.  Stay at peace.
NAMASTE and ABUNDANT, ABUNDANT BLESSINGS,
Heidi
 ©2013 Heidi Parunak/TrinityFactor.info.  All  rights reserved.  This material may not be published, rewritten, broadcast, recorded or redistributed without express permission.
CARPE DIEM!!!  Seize the day!  Seize the moment.  It is the only thing we are promised from the time we entered into this earthly domain.  Embrace and revel in the good.  Accept and get through the bad as quickly as possible.  We are alive to feel both.
We are not mere survivors in this life.  We don't have to settle for that.  WE ARE CONQUORERS IN CHRIST.  That is a promise that has been given to us.  I want life-the bad stuff-to wear a t-shirt that says: I AM A HEIDI SURVIVOR
I used to have a real problem with this abundance issue.  I thought abundance just meant alot of a good thing.  Websters New Collegiate Dictionary gives the definition of ABUNDANCE as: an ample quantity: relative degree of plentifulness. The definition of ABUNDANT: marked by great plenty: occuring in abundance.
When I realized what the definition was, I realized that I have abundance in life in whatever state I choose to stay.  Life can be hard-sometimes unbearable.  Oh, but the the good-the green-the ever present cycle of life is so much sweeter than the unnatural bad.
I noticed when I was hiking in the mountains a few weeks ago that wildflowers will spring up in the crevices of  huge, gray, cold boulders that have been in existance for eons.  Beautiful tall, strong stems with brilliant green leaves and lovely brightly colored blossoms reaching toward the sun.  Pushing up through the seemingly impossible.  Nothing can stop life from existing. 
Have you ever noticed that in a sidewalk or city that has been abandoned that over time grass will grow through the concrete?  Amazing!  LIfe goes on.  In time-LIFE GOES ON!   Stronger and more beautiful with each moment.  But it is a choice.  It is my choice of how I handle what ever comes my way.  Sometimes people will get in my way.  Sometimes my ignorance or lack of knowledge will get in my way.  Sometimes I get in my own way by not learning or letting go and letting the Cosmos rule for me.  It is still my choice.
Final thought.  I was tending to some plants the other day.  A Peace Lily to be exact.  I had been encouraging it to bloom.  I knew it could.  I knew it had the potential.  One day in my frustration, I gently pulled some leaves apart to take a peak and there it was.  A small sliver of a white bloom just beginning to show itself.  Ever so faint.  I would not have noticed that bloom had I not gone looking for it.  I praised it for a job well done.  I am beginning to look at life like that.  Looking through the seemingly impossible to see the possible. 
Seize the day!  Seize the impossible and make it the possible.  Stand back and be amazed.  The potential and ability has always been in you. 
CARPE DIEM, NAMASTE AND ABUNDANT BLESSINGS
Heidi
©2011 Heidi Parunak/TrinityFactor.info.  All  rights reserved.  This material may not be published, rewritten, broadcast, recorded or redistributed without express permission.
As I was meditating on the curse that was cancelled through the cross of Christ, I started to think of what that curse really was.  We were made physically, emotionally and spiritually to live forever.  We were made to work the ground.  We were made to tend the animals.  We were made to keep the earth safe and holy.  Creator-the Holy One of Many Names, created us to be in union with the force of the universe.  
The cosmos, the terra firma, the plants and even the animals were all made to live in balance and harmony and in that we have the the source to live in complete health, wholeness and  unity with our Creator and each other.
The curse was death and the decay that comes from an inbalance with the Universal Force. 
My thinking is that since we had the ability to live forever then why shouldn't that be possible in some way now that Christ cancelled the curse and gave us the resurrection power to be restored and rejuvinated.  There should be no reason why we cannot live in that health and well being again through the energy of that resurrection power.
There is much to think about with this concept.   I am excited with every breath of the true abundace we can have with our Creator.  We have the ability to reach levels and realms while walking this earth that some never realize are possible.
We were mind before we were matter.  This life is truly but a vapor.  Our beings didn't start when we entered this world, it was just taking on a different form.  While we are here, I believe we can live in compelte and total well being free of dis-ease.
We have choices in how we live our lives.  When we speak it can be either blessings or curses.  When we hold out our hand it can either hurt or harm.  I think that each time we speak or touch with positive energy it gets easier and becomes a natural part of who we are.  The same is true with walking in negative energy.   Both can and will take on a life of their own.  The choice is ours.
Namaste and Abundant Blessings,
Heidi
©2011 Heidi Parunak/TrinityFactor.info.  All  rights reserved.  This material may not be published, rewritten, broadcast, recorded or redistributed without express permission.
riAlte your post here.
Welcome to trinityfactor.info.  I desire this to be a venue where thoughts can be shared about an ancient concept of healing and wholeness through the mind, body and spirit connection.
Through the course of this blog, I would like to share with you some of the ways I have discovered effective ways of learning to live an abundant and healthy life. These concepts and thoughts are not meant to be inclusive or exclusive of other universal truths. These concepts and thoughts are meant to be my encouragement to you to learn what you might discover for your own personal life journey.  A way of getting all of us to think of life way outside of a box that most of us have been forced to stay hidden. I believe we all have an innate ability to know what we need to stay healthy and promote healing for our own personal mind, body and spirit.
Life is ever changing as are our beings.  Life can also be painfu as well as full of joy in its' abundance.  I have often wondered how ancient cultures have seemed to stay healthy and intact over thousands of years and Americans, for the most part, are getting heavier, sicker and dying earlier and we less than 300 years old.
I encourage and look  forward to reading of your own personal experiences of healing and wholeness in your life.
Namaste and Abundant Blessings,
heidi parunak
DISCLAIMER:  I have no formal education in the mind, body, connection.  Most of my thoughts have been confirmed and encouraged through the writings and thoughts of ancient through modern day mystics, philosophers and thinkers from around the world as they have discovered some of these universal truths in their own lives.
©2011 Heidi Parunak/TrinityFactor.info.  All  rights reserved.  This material may not be published, rewritten, broadcast, recorded or redistributed without express permission.
/