Shopping Cart
Your Cart is Empty
There was an error with PayPal
Click here to try again
Thank you for your business!
You should be receiving an order confirmation from Paypal shortly.
Exit Shopping Cart
Abundant living through the healing of the mind, body and soul.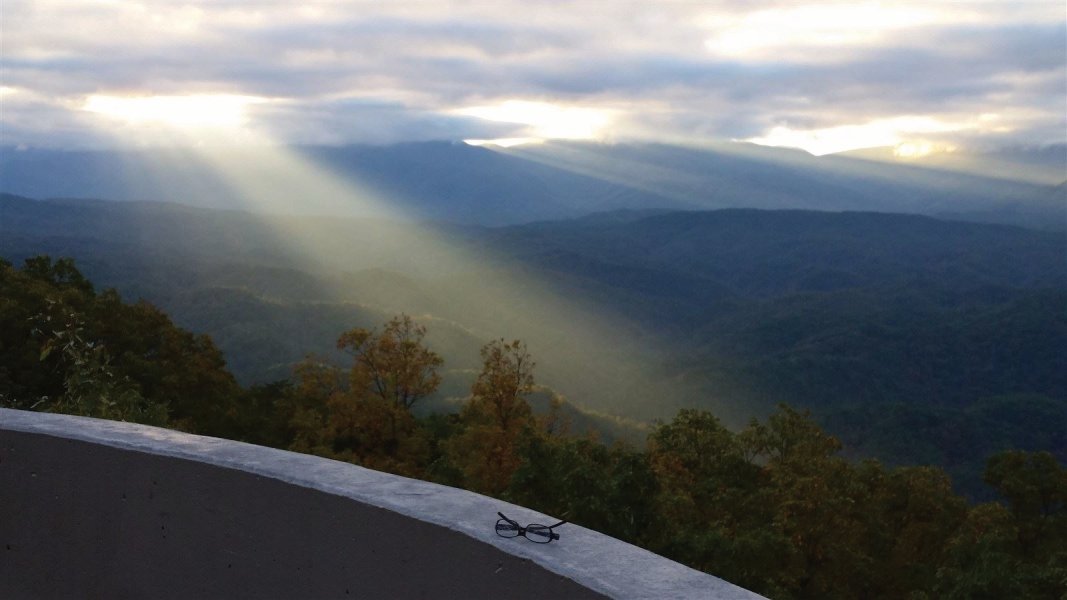 Yes, even we clergy can have crises of faith.  There are times, perhaps more than I would like to admit, that I doubt that there is an eternal loving Creator who has my best interest in mind.  I learned a long time ago in my faith journey that contrary to what I was taught as a young girl, God did not control my life nor did parent Creator micro manage it.  Nor did God desire to do either.  I found just the opposite!  The beautiful rhythm of relationship between Creator and creation and freedom to walk in that unique creation is the freedom with which we are given.  This is the beauty of walking in synchronization with the natural world around us and other creations which leads us across the veil to the metaphysical.
This past week, I learned that I have a couple of health issues that I need to monitor.  This has come on top of a broken relationship, broken dreams of furthering my education, broken promises and broken hope of ever serving in the capacity of what I am called to do with my life.  There was just a whole domino like effect of life issues that happened in just the course of a few months.  And I was at the breaking point.  My way of coping is to literally "head for the hills".  I believe the mountains are the footstool of the Creator.  And at times of crisis, I go there to rest at the feet of the Almighty.
Early this past Sunday morning, I headed toward the mountain top to see the sunrise.  I wasn't so sure there was a Creator. To be honest, at that point I wasn't so sure that I cared or if that was even important!  I was trying to make sense of what is happening in my life, as if anyone of us can or need to make sense of our lives, and I knew that the first rays of sun light would energize me.  I knew that I was weak in body but was driven to go up the half mile incline to a weather tower that has a 360 degree view of the Great Smoky Mountains so I could soak up the vital life giving force of the first rays of the a new day. I arrived at Look Tower before dawn and waited at the man head.  At first light, I made my way up the side of the mountain.  Being an avid hiker, it pained me to now have to pause every few feet to get my bearings, keep my balance and catch my breath.  But when you have to do things yourself, you just learn to do what you have to do to make things work.  It is a "do or die" type attitude that I have had to develop.
This is the Fall of the year as it is the Fall of  my life.  I have seen many seasons come and go and will see many more seasons come and go but I am more aware than ever before that there are more years behind me than are ahead of me.  And I don't know that I have accomplished much of anything with this life that has been given to me.  But I digress-I enjoyed the changing of the path which I have walked in all four seasons.  I snuggled into the cool of the morn as opposed to the heat of the summer.  I soaked in the brilliant, vibrant colors of the fallen leaves that strewn the path.  The way looked different than it did just a few months ago, but I knew where I was headed.  I also knew the view is never the same when I get to the top.  There is always a glorious surprise that awaits.
Pictures cannot do justice of what I witnessed when I got to the tower.  The portals of heaven had opened up and rays of sun light shone across the valley. I cannot say that I found resolution that morning.  It did not change things in my life.  What it did for me was to make me realize I must live my life the way I was created to life it which is juxtaposed to the expectations of this culture and society. That is OK.
My unhappiness comes from when I try to tend to things in my life the way I know are not good for me.  I cannot dictate to others what is good for them.  The freedom to flow in the diverse ways we are created to be is the beauty and wonder of life.  I have been grappling of how to take care of this health issue, i.e. holistic vs. western medicine.  And in this case, I cannot combine the two.  I can't change the broken relationship.  That is over.  I can't change my past.  I can't change what has happened with school.  What I can do is follow what I believe is right path for my healing.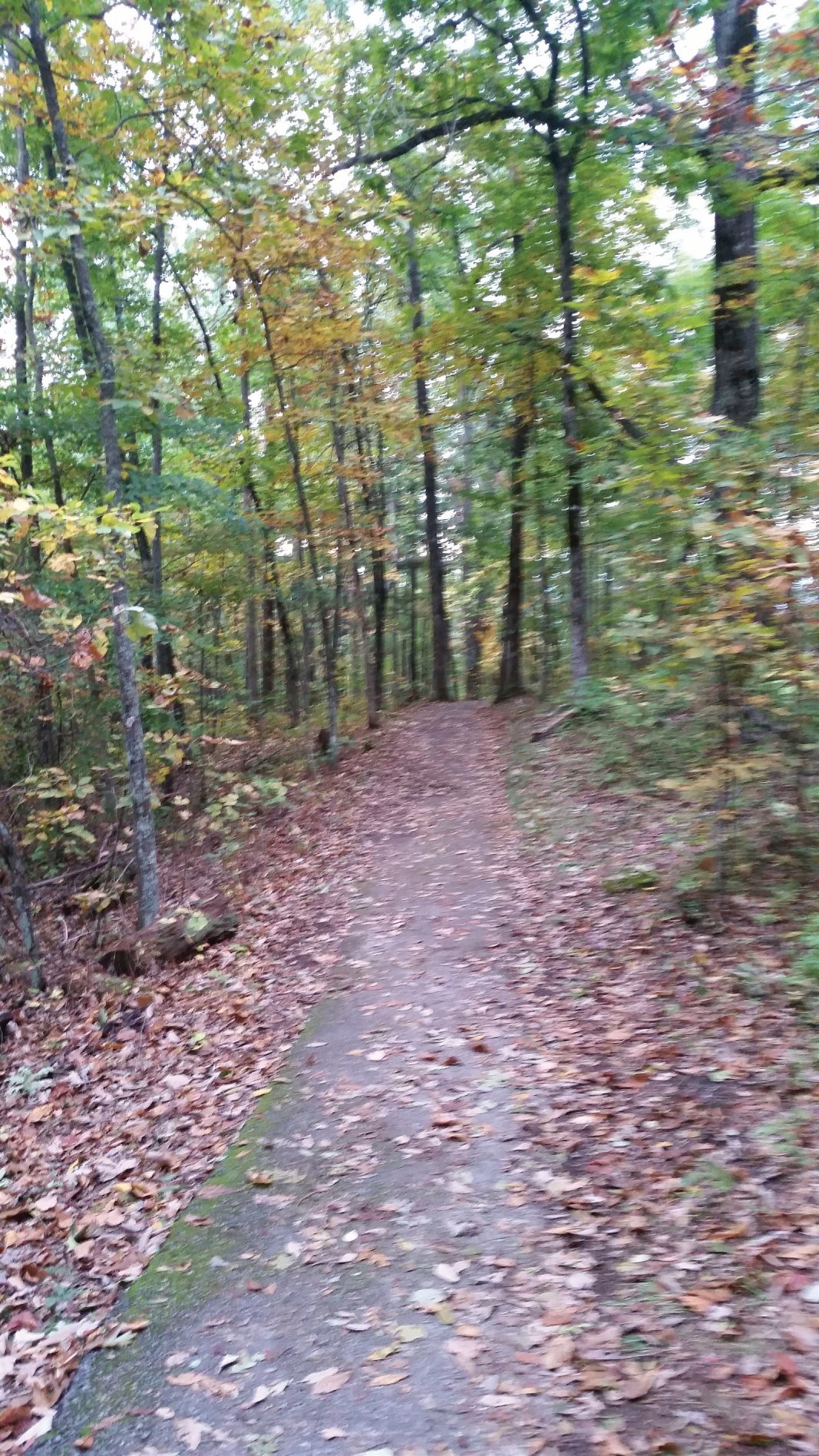 We must ALWAYS be true to ourselves.  If we are not true to ourselves, then we are not true to our Creator. Life is fleeting.  Our body's age but our spirits are timeless.  I think that we make the mistake of being led by our bodies and not by our spirit.  Years after this heart stops beating and my body becomes part of the cycle of life, my spirit will continue to live and thrive.  I will be just as much a part of the cosmos as I am now.  And if I can realize that now, I will be all the better for it.  It is not all about me and my angst.  It is about the good of the whole.  It is about service to others.  It is about keeping this body healthy and well to continue to serve others.  No person is an island unto themselves.  And somehow our lives are not our own. 
We are all a part of one another.
I was up at Look Rock Tower last week seeking renewal and refreshment after a very long but productive week.  I was waiting for the sun to burn off the haze of an early morning fog that had laced the mountain range. I noticed a wind had whipped up that swayed the trees and the already dense fog turned ominously darker and the temperatures dropped as will happen right before a storm.  My heart skipped a beat as I knew that I was at the "top of the world" looking 360 degrees from North Carolina to Maryville around to Knoxville over to Townsend and back to North Carolina.  Surely, I thought, after the storm comes and the rains start to subside, I will see a rainbow.  And never a better place to find one.  So, as I settled down and waited for the storm to come, I remembered the lesson that I learned a few years ago about finding a rainbow after the storm.

Here are a few clues for finding a rainbow.  First of all you have to look for them and trust that they are going to be there.  Look toward the sun when finding a rainbow.   Rainbows appear when the sun comes out after a storm.  And the sun always comes out after a storm.  It has since the beginning of time and it will continue to come out until the end time.  As surely as the sun rises and sets, it appears after the storm clouds start to subside and dissipate.  You don't always have to wait for the rains to completely come to a standstill to see a rainbow as the sun sometimes shines before the rains cease.  Look through the droplets.  Sometimes the biggest rain droplets come at the very end which makes the colors of the rainbow even more vivid and brilliant.  And sometimes you will find a double rainbow!

Well, back this supposed storm I had been waiting on for an hour and a half.  A fog had completely settled on Look Rock Tower and I was confused as to why the action had settled down.  I was sitting in the midst of cold, damp fog waiting to find my rainbow when a ranger came up the ramp and I asked if there was storm brewing.  He said that there was no storm front expected and that I was actually sitting in the middle of a cloud!  I told him about the manifestation of what I thought was a pending storm and he told me that is what happens when a cloud settles.  I had no idea that a cloud had any activity associated with it.  I just looked at them as white fluffy patches of water that brought great delight in imaginings of shapes or gray ominous patches that brought promises of rainbows.  I had just been given a gift of experiencing a cloud gently yet with great power surround me like a mantel around my shoulders.  How fortunate can a gal get?

What I have to take from this day of renewal is the reminder that rainbows appear after storms.  And I can count on the fact that there is never just one storm over the course of a life time.  As I grow older it seems like the storms can get a little more angry and the rains pelt down with a sting that can be welting. I have come to learn to accept that fact.  I have to realize that the pot of gold at the end of the rainbow can be found.  Sometimes the gold is in the form of a friend that walks with you through the storm and assures you that you will come through even though they are walking through a storm of their own.  Or a simple gesture of a friend who cares enough to have heard you didn't make your coffee that morning and hands you a cup to stave off a headache due to lack of caffeine. Gold comes in the form of patients I meet every day whose courage humbles me.  Gold comes in the form of nurses, doctors, administrators, healthcare professionals and food service workers whom I serve with all working together for the common good.  Gold comes in the form of family and friends I see waiting diligently and patiently for their loved ones to return home.

All I can do is to encourage you to keep your face to the sun.  Find that rainbow.  Your circumstances might not change.  Your heartache and grief may still be magnified.  But I believe that we all will find a way through the storm.  Don't be foolish as this gal to think that we can walk through this life alone.  I have also learned there are sojourners along the way named friend who can help lift my face toward the sun when I can't lift my own.  Love them with all of your heart.  Revel in their friendship and never take advantage of this golden gift from God.  Friends are put into our lives for a reason, a season or a life time.  It doesn't matter for how long as we only have this moment in time.  We only have NOW.
©2014 Heidi Parunak/TrinityFactor.info.  All rights reserved.  This material may not be published, rewritten, broadcast, recorded or redistributed without express permission.     
I got so tickled this morning when I was mall walking for our Saturday morning trainings with the Knoxville Track Club for the CHKM 2014.  It was raining cats and dogs and at the last minute I decided I would go to the gym instead.  It had been a bitterly cold week and I was wanting a bit of a break from the elements.  I got a call from one of the coaches and she said the gals were going to mall walk.  So, I decided to join them.
Now, I had been having a lot of trouble walking the past month or so.  My injuries from the previous year have healed but I just felt like my feet weren't working correctly.  My ankles were giving me problems and I found myself having to stop and stretch more than I usually do.  My New Balance runners that were bought for last years BW 2013 team were getting worn.  I noticed the traction grips on the bottoms were smooth from wear and the heals were getting worn but I didn't think that was the issue.  Then I noticed the same thing happening with my hiking boots that I purchased last spring.
I decided to slow down and study the situation for a few minutes.  My boots are now at least a half a size to a size too large.  I knew they were getting a bit loose so I would double sock and tie those laces even tighter.  That wasn't working after awhile and I realized this morning that they are simply too big. HA!  I realized the same for my runners this week when I started to jog and my heels literally lifted out of the back of the shoes.
However, there is something that is more meaningful about my shrinking feet.  When I was a young girl, I struggled with the fact that my feet are very broad with a high instep and no arch.  I had a lot of trouble finding shoes that would fit and were stylish.  It always caused great angst to go shoe shopping and my mother did everything she could to encourage her daughter that a size 10 wide shoe at the age of 13 was not the end of the world but rather indicative of a young woman who had a "firm understanding, dear".  A firm understanding of what I didn't quite understand at the time.  Though I knew then as I know now she was trying to find some humor to lighten those very tense shopping trips which usually ended up in a flood of tears and self incrimination.  As if I had control over the size of my feet.

But really, what is a mother to say to her only long awaited daughter after raising 3 sons when she can't wear a cute pair of little strappy sandals with a sharp pair of linen shorts and a fun halter top because her feet are too big, her thighs rub together and prevent the shorts from staying in place and her shoulders are too broad for a decent halter top?  Endless blisters in the name of fashion and a lack of appropriate looking shoes for a teenager with large broad feet were just a part of life.  And the numerous summers at the beach wearing sneakers to walk in the sand because I was not able to wear flip flops or huaraches are now sweet whimsical thoughts of a young girl coming of age in the '70's.

So, when I have those glorious moments like I have had this morning with the shoe issue, those early days are just precious memories of a life that seems so long ago yet just like yesterday.  I am so very, very grateful that I can walk and hike and take a stroll in the park to the extent that I wear out shoes and now literally walk/RUN out of them.  Who would have thought?
BE WELL
©2014 Heidi Parunak/TrinityFactor.info.  All  rights reserved.  This material may not be published, rewritten, broadcast, recorded or redistributed without express permission. 
So, here we are one year almost to the month when I was accepted for the Covenant Health Marathon Biggest Winner 2013 team.  I am still overwhelmed and privileged to have been part of such a great group of folks, coaches and manager.
As I write this post, I ponder where I was last year, where I am this year AND where I was four years ago in October 2009 weighing over 400 pounds.  The best way to put this past year into perspective especially the past few months is to make a list of the high lights.
I want this to be taken as braggadocios or self emulating. I don't want this to be taken as of self aggrandizement.  I want this to be a testament to the fact that poor health can be reversed.  A broken life can be renewed and restored.  The rewards are numerous and aren't necessarily all tangible. 

So here goes----

continued to hone my personal workouts and nutrition with the goal to run some of the following marathons.

registered for the Covenant Health  Knoxville Marathon 2014 on opening registration day this summer.  I have 4 other folks who registered along with me.  We are all doing the 5K.

joined the Knoxville Track Club the first of September!
took my first spin class with the spectacular Joe Mitchell as my fearless leader on September 16!  YAY

registered for the Buddy's Race for the Cure which will be held November 10.  Missy Kane's team.

jogged my first full mile with out walking/jogging (WOG) on September 28.
lost another half shoe size.  I was a woman's 12 WW in October of 2009 and I am now down to a woman's 10 1/2 regular.  My running shoes of last year were size 11 W.  YES, feet can and do shrink! I am currently needing to double socks my old shoes and hiking boots as they are becoming almost too loose.
The best news of all is that when I am out on the track or at the gym I do not think of myself as being 56 earthly years of age.  I think of myself as timeless/ageless.  My health continues to improve as does my energy level.  I look forward to each new day with renewed hope and vigor.  I can't imagine what my life would be like today if I had not been chosen for the CHMBW2013 team.
Namaste and abundant, abundant blessings,
Heidi 
SWR

     It has been a year since the advertisement to apply for Biggest Winner 2013 came to my attention. Long story short, I dared to apply. They dared to accept my application. Oy gevalt!  What were any of us thinking?  I have struggled with a lot of regrets since the 2013 CHKM that I did not work the Biggest Winner Challenge like I had wanted, intended, or expected too.  One of the goals stated in my Biggest Winner 2013 Challenge application was that I wanted to run.  I had learned to walk again and now I wanted to run.  It didn't work out that way.  I was bitterly disappointed.  I felt I had blown my chance of a life time.
     After the team disbanded, I continued on with my quest for spiritual, physical and emotional wellness.
I have gone back to walking the track where my quest started back in October of 2009.  That track became my safe haven. It gave me the motivation to get out of bed to watch the sun rise over the mountains.
I enjoyed the anticipation of the inky midnight blue sky of dawn come alive with ribbons of salmon pink before the sun made its appearance.  I took solace and comfort on the days when drizzle or snow would become my mantel surrounding me with the knowledge that life indeed goes on no matter what the weather brings.  I logged hundreds of miles on that track as well as pounding out a lot of hurt and tears through the soles of my shoes. Little did I know the metaphorical life lessons I would learn from those early years of walking away from the darkness of depression fear and panic attacks into the light of health wellness and wholeness.
     For the past few weeks I have been faithfully and religiously walking the track again. The mile track has benches every 1/8 of a mile. This past week I began to WOG walk/jog alternating an 1/8 walk then an 1/8 mile jog (albeit slow jog).  During those walks I have been trying to reconcile some of those regrets of a year ago.  There were many valuable life lessons learned that I am still applying.  I remembered those lessons I had heard our coach Missy Kane teach our team.  I remembered our manger Tonya Stott-brown and her smiling face and that "go-get 'em" encouragement she had for us each every time she saw us.
I remembered the life coaching lessons facilitated by life coach Chris O'Hearn where he encouraged us to envision in our minds the individual desires or dreams we wanted for ourselves.  For me at that point in time it was running; knees to the breeze, elbows pumping, the rhythmic whoosh of my breath.
Imaging what it would feel like for ME to run.
     I remembered Joe "Suck it up" Mitchell who patiently walked with me on that first early morning training with the Knoxville Track Club and then later gave of his Saturday mornings at the Fort Sanders Health and Fitness Center when a calf and ham string injury rendered me to the recumbent bike.
I will always remember Joe's unending patients with helping me overcome my fear of treadmills.
I will always appreciate the fact that he never verbally said "Suck it up, cupcake" (don't even know if he was thinking that) as he helped me to understand and overcome my fear of treadmills.
     I will always remember my team mates who individually inspired me to greatness in their unique way.
How I miss them.  I remember thinking many times that my acceptance to the team was a mistake and the powers that be didn't have the heart to tell me otherwise.  I was way out of my league with those folks!
     Fast forward to today when I accomplished the beginning of my hearts' desire to run.  TODAY
my two mile loop consisted of a 1/8 mile jog segment, two quarter mile jog segments finishing with another 1/8 mile jog segment.  When I found myself actually running the first quarter mile segment the lyrics of the tune by Steppenwolf's "Born to be Wild" popped into my head (no telling what else is in the dark recesses of my mind) and I finished my laps on that rhythm.  Feeling my body run, breathing even and body strong I had the knowledge that what I did last year was phenomenal.  How I processed and executed the opportunity was all a part of a bigger experience. Eighteen years stubbed up in depression, fear and home bound. I was only three years out of the house in my wellness journey, clear of mind. One year in volunteer work as a companion with home hospice.  This old girl, still morbidly obese even after dropping over 100 pounds DARED to apply for something that would thrust her into the public eye, photo sessions, TV news programs, interviews and a marathon of all things. The powers that be DARED to give me a CHANCE OF A LIFE TIME. 

NO REGRETS!
lyrics:

Get your motor runnin'
Head out on the highway
Looking for adventure
In whatever comes our way
Yeah, darlin'
Gonna make it happen
Take the world in a love embrace
Fire all of your guns at once
And explode into space
Like a true nature's child
We were born
Born to be wild
We can climb so high
I never wanna die
Born to be wild
Born to be wild
Moving Forward and Abundant, abundant blessings,
Heidi Parunak
©Heidi Parunak/Trinityfactor.info.All rights reserved. This material may not be published, rewritten, broadcast, recorded or redistributed without express permission.
July 16, 2013
I awoke early, too early, I thought.  3:39 AM to be exact.  My head and shoulders wracked with pain from a neck injury I incurred this past January.  Not being one for conventional chemical intervention, i.e. an aspirin or other pain relievers of the kind, I knew that if I could lay on the grass, the pain would be absorbed into the earth.  Did you know that the earth has a beat, like a heart beat?

As I lay on the cool grass just before the dew, I heard an old hoot owl.  That ancient rhythmic chant of an amazing bird lulled me into a meditative state.  As the pain absorbed into the earth and my headache waned, I turned over to look at the night sky.  Stars shone bright on the black/blue velvet background.  An occasional wisp of a cloud floated across the sky scape. 

In over thirty years of living on this tiny plot of land, I have never heard the owl.  I remember as a girl, there was an owl who lived in a tree outside of my bedroom window.  I would listen to his comforting call.  That old bird gave me a sense of security and continuity in a world that was rather chaotic. 

So, as I allowed the earth to do its' mysterious cycle of pain absorption and release of healing energy into my body, the chant of the owl and the brilliance of the night sky renewed my body, mind and spirit for another day.  In a few hours, the morning sky will appear.  I will take my walk and enjoy the sounds, sights and smells of the morning.
As sure as the sun sets, the sun will rise. I always look forward to seeing those broad strokes of color that come with the dawning sky right before the sun appears over the mountain range.  It is literally always the darkest before the dawn.  The atmosphere is also cooler along with the darkness.  And then a sure as I am sitting here, a new day dawns bright.  A brand spanking new day full of hope, promise and mercy.  New mercies for a new day.  Mercies not left over from a day that is past, nor mercies borrowed for a day that is not promised. 

ENJOY THIS GIFT OF NEW DAY

NAMASTE and ABUNDANT, ABUNDANT BLESSINGS,
Heidi

©Heidi Parunak/TrinityFactor.info.  All  rights reserved.  This material may not be published, rewritten, broadcast, recorded or redistributed without express permission. 
Hiking, gym, cooking, gardening, writing, dogs, new floors, more hiking, more gym, gaining momentum and energy, strength and endurance.  It has been three months since the CHM 2013 and I feel as if I am just now getting used to not seeing the BWCT 2013 team, manager, and coaches.  For weeks after the team disbanded I felt disconnected.  I felt like something big just happened in my life and I let it slip through my fingers. 
I found myself regretting a lot about those five months.  If only I was the person then that I am now.  If only I had worked harder and cried less.  If only, if only, if only, if only.....  Then one of those proverbial "What light through yonder window breaks" moments happened.  I would not be the person I am today had I not been on that team with those people at that moment in my life.  Had I not struggled through some very dark moments and crossed that finish line (eventually) I would not be as well, content, strong and vibrant as I am today.
I fill my day's with just "doing life".  I start the day at the gym-early-with music or meditation.  While I am finishing up, I read The Wall Street Journal, The Huffington Post, The Boston Globe and The Washington Post on my phone.  I go home, clean up and start the day.  Seems dull and boring.  It is a rhythm of life that I am following at this point in time.  I am part of a duet at the fellowship I attend.  When I lift my voice to sing, I get lost in the moment never wanting to forget the decades I spent not being able or wanting to listen to music let alone sing.
Everyday is different.  I awake wondering what the day is going to hold and be open to anything that may come.  I see my hospice patients as they need me.  On those moments when I feel the slightest angst at not had made something of myself, I have to remember where I came from.  I have to remember that I no longer live behind a veil of tears.  I have stepped into the marvelous light that sometimes blinds me with its' brightness.  I am loved and I can give love.  I am aware of life.  Those wonderful moments of going home to my beloved mountains hiking in my zone only to find myself singing with birds and the breeze that rushes through the trees.  Those moments I know that I will live forever.  I wonder if that what it means by being changed from glory to glory.
This week when I went home, I made a comment that if I came up MIA, it is because I found the portal to my bliss.  Perhaps I am walking that divine path that was intended.  This is a good thing.  The future is mine for the taking.  It is mine for the making.  As is the NOW that I live.  Have a safe and cool summer.  BE WELL!
Namaste and abundant, abundant blessings!
Heidi
In one scene of the cult classic Harold and Maude, older seasoned Maude played by Ruth Gordon advises the young Harold that (my paraphrase) "you gotta go with gusto in this life".  In my minds eye I can still see the wizen character with a twinkle in her eye and fist clenched in determination trying to encourage this young man to take this old world by the tail and give it all you've got.
This brings me to my bucket box.  A few years ago the movie The Bucket List became popular.  When I started my journey I decided to make one.  I start including everything and anything that I might want to do or experience even if it was just for a taste.  I decided at the time that for every accomplished entry I crossed off, I would add another.  This list is endless.
To date, I have experienced a few things even if it has just been a taste.  Among others, two that I have scratched off my list are "take a swing dance class" and another that I have chosen to pursue is  "learn to play the guitar."  Over the years, I have collected a file of information of things on my list that I keep handy when an opportunity arises for an adventure.  It now has become necessary for me to create a Bucket Box for my Bucket List information.  Right now it is a New Balance shoe box.  How apropos!
My latest Bucket List information acquisition is a brochure on learning to ride a motorcycle which I obtained at the Woman's Expo last Saturday.  I have always wanted to drive a motorcycle.  I have never wanted to own one or use one as a mode of transportation.  I have never desired to travel across country on one.  My desire since I was a young woman has been to drive a bike head long into the wind, knees to the breeze, full throttle down a stretch of highway even if it is just for five minutes.
Now, before some of you get too much of a visual of this old girl as a biker babe with a black leather bustier, fish net stockings and chaps, I will tell you that all I want for this brief excursion besides full denim cover and boots is a matte black  skull helmet with the biggest, blackest, leather laced, braid attached to the back (gotta' have something blowin' in the wind).  Seriously!
So, imagine my delight when after an incredible time on stage with the Biggest Winner 2013 team being ambassadors for health and fitness at the expo, I found the Harley-Davidson booth (did I mention the bike MUST be a Harley)?   When I saw the woman standing there pamphlets in hand I was eager to speak with her.  Before I could say anything she congratulated me on my success thus far and commended me to continue on my journey.  I thanked her and briefly mentioned my interest in riding and that now I probably am getting enough balance and strength to actually fulfill this dream.  I filled out a ticket for a drawing for a free lesson, chatted for a few more seconds and off I went, treasure in hand!
Life for all of us holds infinite opportunities and endless possibilities.  There is always an adventure to be had.  Sometimes adventures come our way and sometimes we have to go after them.  Either way, I want to be ready!
Namaste and abundant, abundant blessings,
Heidi
©2013 Heidi Parunak/TrinityFactor.info.  All  rights reserved.  This material may not be published, rewritten, broadcast, recorded or redistributed without express permission.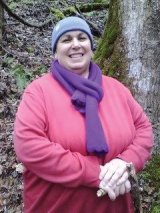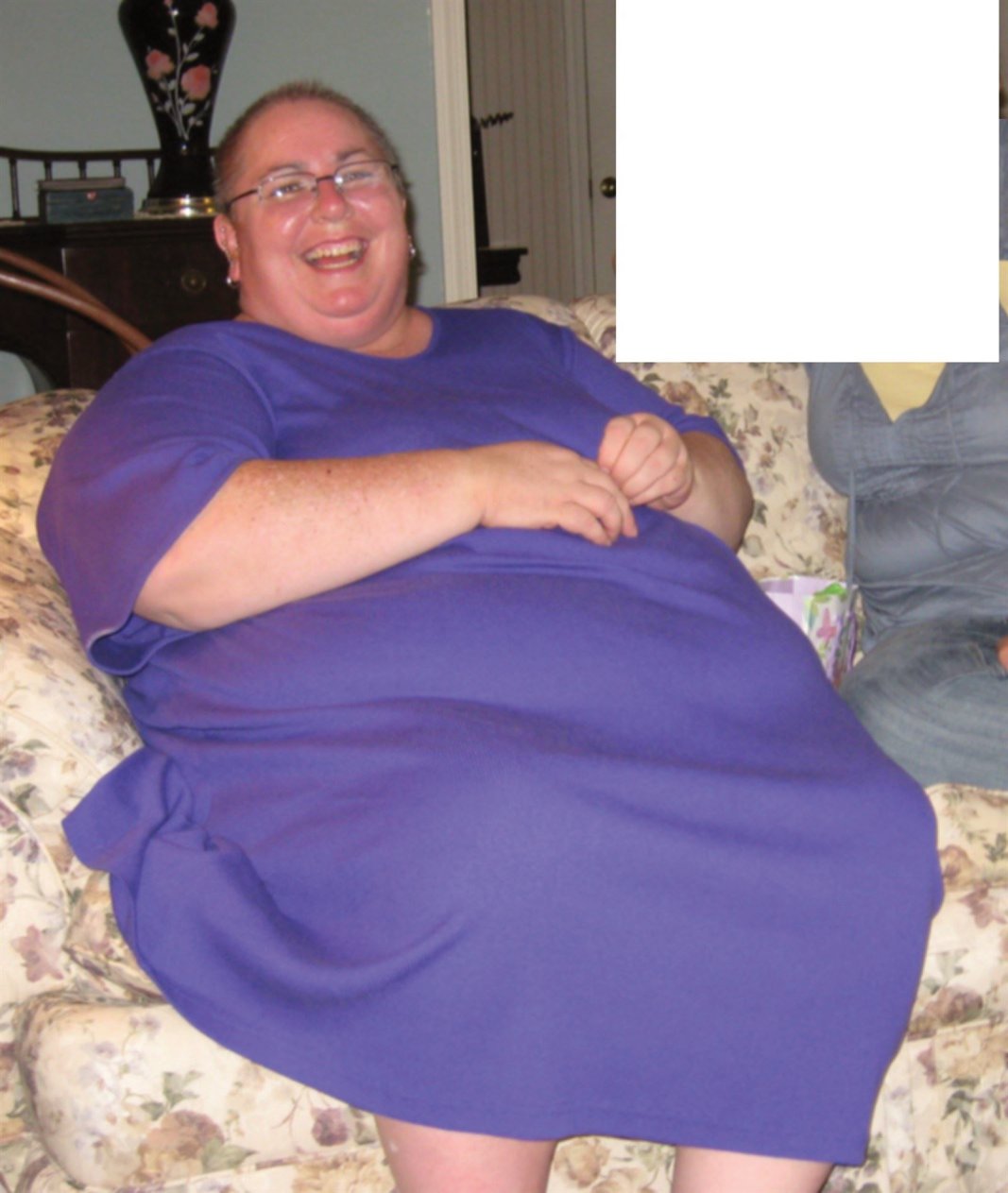 Change is not easy.  Nor does change have to be a burden.  It can be as difficult or as easy as I perceive it.  I was taking a CrossFit class yesterday and the instructor whom I had known for a few years noticed how much I had changed.  She remembered me three years ago when I was 400 pounds plus and she has watched my journey.
She asked if it had been hard.  I only smiled as I know that the hardest thing when I decided to change was changing my mindset.  I had to care about myself enough to want to change.  I had to have compassion for myself.  How can I have compassion for others if I have no compassion for myself?
The concept of a changed mindset, the initiative to move and the small dietary changes can be problematic at best.  As an Ambassador of Health and Wellness, I hear concerns about mental health issues, how to change yourself especially with a family.  How to change a family's diet without a full blown mutiny.  How to make changes within yourself without a full blown mutiny!
What I am also hearing is that some folks see guys like Byran and BJ and seem to think they have to be like them now or they have to become an athlete.  These two great guys are each on different journey's for their own reasons.  We all have different goals in mind.  We all are at different fitness levels with different goals and abilities.  Together our team is a great diversified mix and can be a powerful force for CHANGE to health and wellness.
My goal three years ago was to walk again and become as healthy and well as I could.  I didn't know what the end result would be-still don't.   I just knew that I had to make a CHANGE.  I had to MOVE.  I never had in mind to be on the Biggest Winner Team 2013.  I never even thought I could be as active as I am now.  I wasn't even  looking to future endeavors.  I was taking each day as it came, live in the NOW and set a tiny movement and dietary goal for each day.  I just knew I didn't want to stay where I was.
I knew not to expect perfection.  I knew there would be struggles.  I knew there would be times when I would seemingly blow it.  I also knew I never had to start over if I did mess up.  I began to look at this journey into wellness as I would a hike or a walk.  If I am hiking and trip on a rock and fall down, I would not go back to the trail head and start my hike over again.  I would pause and check out how I was feeling.  If I didn't see what had tripped me up, I would be mindful to be more AWARE of what is ahead of me.  I would get back up and  proceed FORWARD from that point.   I would also try to be mindful to RELAX and enjoy the beauty around me in the process. Notice I said PROCESS. 
My message has been to start the process of  CHANGEby taking small steps.  MOVE according to your personality and life situation.   Consult a physician to determine your health and monitor your PROGRESS.  Find an expert to help with food choice suggestions and movement suggestions.  Seek an expert to talk with about feelings that will come up in this process.  Be pro-active in your own wellness journey.  For me it started simply my moving my feet and hands in bed when I awake.  Small, small dietary changes that have led to bigger ones that I can live with.  It is a daily commitment to have compassion for myself.
Back to the CrossFit instructor's comment.  When I was weighed and measured two months ago, I remember the feeling that I had when I was measured.  When I started my journey three years ago  I had no measurements to go by.  The tape measure which is 60" would not fit around my hips, waist or bust.  I lacked a good foot or more around my hips before the ends of the tape measure would meet.  The tape measure would not come together around my bust or my waist.  Two months ago, the ends of the tape measure came together.  I am looking forward to the day when the ends will overlap!
Has it been hard?  When I compare who I was then to who I am now the concept of it being "hard" now pales to what I experience on a day to day basis.  In my struggles I know I am no longer bound.  I am FREE.  Freedom has a new meaning for me.  For me it is being content where I am at any given moment.  Freedom is the knowledge that I have choices.  I can CHANGE what is not healthy whatever that may be for me within myself.  When I CHANGE within myself, my life situation will CHANGE also.  I can relax and be KIND to myself.  I no longer have to be STUCK.  I am no longer FEARCHANGE.
I am aware of the fact that folks will make excuses not to change. I know I did for many, many years.  I am aware I still struggle with this.  The feeling of well being and clarity of mind that comes from movement and dietary change has always been the catalyst to keep me moving. 
My encouragement is to start the process of CHANGE.  I have learned that the grip of fear and panic I used to live in only has the power that I give it.  Just for NOW, make small steps and changes to take fear and panic by the tail and MOVE forward.  I may never know who is going to read this and start making those changes but know that I am walking beside you, cheering you on in spirit---  YOU CAN DO THIS!!!
As anything in life the daily decision to MOVE and CHANGE truly is MIND OVER MATTER.  Just for the  NOW - I choose to use my MIND where it MATTERS.
NAMASTE and ABUNDANT, ABUNDANT BLESSINGS!
Heidi
---to live in the NOW, I have already WON---
©2013 Heidi Parunak/TrinityFactor.info.  All  rights reserved.  This material may not be published, rewritten, broadcast, recorded or redistributed without express permission.
. 
My debut on Missy Kane's Fit and Fun Show aired this morning.  As I watched I was reminded of my first day that I was to meet the team of Biggest Winner 2013.  We had to fast for a base line blood test.  I had a restless night and woke up around 3AM with a splitting headache and equally upset tummy.  I was scared, excited and not really sure what I had gotten myself into.  The only thing I knew to do was draw a tub of the hottest water I could stand and try to relax.  I had to get on the road by 6AM so I had enough time to try to get myself together.
As I allowed the hot water to run and the steam to rise around me I was transported three years back to a time when I could not step over the edge of the tub to take a shower.  I was not able get down and sit in the tub or lift myself up out of the tub.  Nor would I have been able to fit into the tub itself let alone have enough room for the water to surround my body. 
At this remembrance my heart began to beat rapidly and I thought my head was going to blow off my shoulders.  I put a hot wash cloth on my head and started sobbing with tears of overwhelming gratitude.  My husband awoke and came into the bathroom to see what was wrong.  I took one look at his precious smile mixed with concern and started laughing when I realized what I must have looked like. 
I shared with him my thoughts and we agreed this was a GREAT way to start Day 1.  We thought better of taking a photograph but that moment is indelibly marked in my memory.  My headache eventually subsided and I made my way to my first meeting.  A delicious fruit salad and a cup of hot coffee was very much enjoyed after my blood sample was taken.
Almost six weeks have passed since that first meeting.  I have lost an additional  12 pounds.  There have been good days and challenging days.  I have met and look forward to getting to know my team mates and those professionals and encouragers that are helping us all.
At one point in watching the show this morning, I momentarily forgot that I was the woman exercising with Missy and gained a renewed sense of encouragement and excitement to continue on this incredible journey to wellness and wellbeing.  If she can do it, so can I.  SO CAN WE ALL!
Namaste and Abundant, Abundant blessings,
Heidi
©2012 Heidi Parunak/TrinityFactor.info.  All  rights reserved.  This material may not be published, rewritten, broadcast, recorded or redistributed without express permission.
/