Shopping Cart
Your Cart is Empty
There was an error with PayPal
Click here to try again
Thank you for your business!
You should be receiving an order confirmation from Paypal shortly.
Exit Shopping Cart
Abundant living through the healing of the mind, body and soul.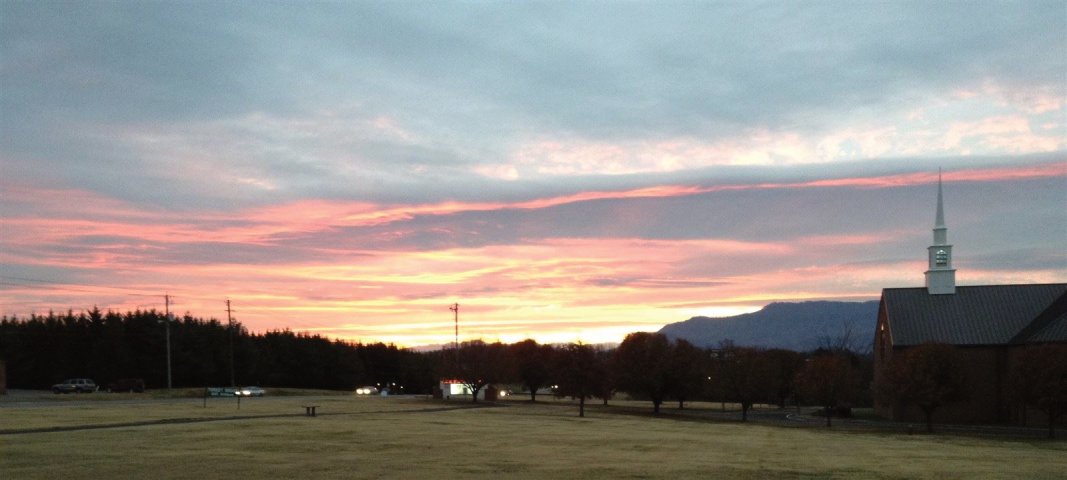 In 2010, I had hit the track before dawn to walk off my already anxious day. The full moon hung like a rare pearl nestled in the gray velvet folds of the night sky.  I asked Abba to please give me a sign of hope that I would get through this very difficult time in my life.  As I started my third and final mile of my daily walk, I noticed the atmosphere grew darker and the temperature drop a few degrees as it always does before the dawning of each new day.   
I waited in great anticipation for the first chirp of the morning which would lead to a second note of awakening which would bring on a glorious symphony of song much like Handel's Messiah, heralding in a new day with new mercies.  As promised, I heard the first note and as I rounded the bend on the track, I looked up at the night sky which winked the first hint of dawn.  The outline of the mountain range still shrouded by night began to appear and like faith, the mountains were always there as they had been since the dawn of time and will be long after I leave this earthly realm, I just couldn't see them through the darkness.  I watched the night sky turn a salmon pink hue and the pinnacles of the mountains began to barely cast a golden glow.
And just as I caught my breath at the beauty of the sunrise, a gentle quite voice roared like a great ocean wave crashing on the dry shore of my heart, "The same Creator, whose hand paints the first salmon swatch of a brand new day, creates new mercies just for you. Mercies not left over from a day that is gone and never to return, nor mercies borrowed from a day not yet created nor promised.  But brand new mercies made for this brand new day just for you, Heidi, for such a time as this". 
The infinite Creator who hung the rare pearl of a full moon against the midnight gray velvet sky had me snuggled very close to the Divine heart which beats as one with mine.  The tears in my eyes which had bogged my steps dried like diamonds, and my step quickened for I knew that my petition for hope had been answered and my faith strengthened---JUST FOR THIS DAY---.
As I came off the track, the birds were in full chorus singing to my now uplifted heart the psalm of ascents sung by the ancient shepherd boy king, "I lift up my eyes unto the mountains-where does my help come from?  My help comes from the Lord, the Maker of heaven and earth" (Psalm 121:1-2).
Oh, Holy One of Many Names, thank you that your mercies for your beloved children are new every morning.  Make us aware in a very real way, as only you can in our individual lives, how very close you hold us to your heart and that your love for us is eternal.  Amen. 
It is a universal truth that mourning lasts but for the evening and that joy comes in the morning.  Upon the dawning of a new day when our Creator paints those wide swatches of salmon pink upon the gray canvas of the dawn sky that those new mercies are created.  They are mercies not left over from a day that is gone, nor are they mercies borrowed from a day that has not yet been created nor promised.  Those new mercies are made uniquely for the new day that has been created.  They are mercies that are there for the taking and are as unique to us as individuals as our thumb prints.

When I was a little girl in Girl Scouting, we were making a Mother's Day gift.  It was to be small keepsake picture that used my thumb print as the body of a mouse.  I presented this small token to my Momma, and with great delight as if I had just presented her with a priceless masterpiece she hung this small wooden framed picture on a tack in the breakfast nook and where it remained until my parent's estate was dissolved. I ran across this memento while unpacking my belongs. With great care did my Mother keep that reminder of the uniqueness of her daughter. 

With even greater care does our Creator make the uniqueness of those mercies that are created for us with each new dawn.  And with even a greater love than a mother for her child does our eternal parent love and care for us.

Be encouraged that whatever you may be facing at this moment in time new mercies will meet you right where you are at.  The night can be long and intolerant and the pain never ceasing.  Push through knowing that there are brand spanking new mercies waiting for you upon the dawn.
July 16, 2013
I awoke early, too early, I thought.  3:39 AM to be exact.  My head and shoulders wracked with pain from a neck injury I incurred this past January.  Not being one for conventional chemical intervention, i.e. an aspirin or other pain relievers of the kind, I knew that if I could lay on the grass, the pain would be absorbed into the earth.  Did you know that the earth has a beat, like a heart beat?

As I lay on the cool grass just before the dew, I heard an old hoot owl.  That ancient rhythmic chant of an amazing bird lulled me into a meditative state.  As the pain absorbed into the earth and my headache waned, I turned over to look at the night sky.  Stars shone bright on the black/blue velvet background.  An occasional wisp of a cloud floated across the sky scape. 

In over thirty years of living on this tiny plot of land, I have never heard the owl.  I remember as a girl, there was an owl who lived in a tree outside of my bedroom window.  I would listen to his comforting call.  That old bird gave me a sense of security and continuity in a world that was rather chaotic. 

So, as I allowed the earth to do its' mysterious cycle of pain absorption and release of healing energy into my body, the chant of the owl and the brilliance of the night sky renewed my body, mind and spirit for another day.  In a few hours, the morning sky will appear.  I will take my walk and enjoy the sounds, sights and smells of the morning.
As sure as the sun sets, the sun will rise. I always look forward to seeing those broad strokes of color that come with the dawning sky right before the sun appears over the mountain range.  It is literally always the darkest before the dawn.  The atmosphere is also cooler along with the darkness.  And then a sure as I am sitting here, a new day dawns bright.  A brand spanking new day full of hope, promise and mercy.  New mercies for a new day.  Mercies not left over from a day that is past, nor mercies borrowed for a day that is not promised. 

ENJOY THIS GIFT OF NEW DAY

NAMASTE and ABUNDANT, ABUNDANT BLESSINGS,
Heidi

©Heidi Parunak/TrinityFactor.info.  All  rights reserved.  This material may not be published, rewritten, broadcast, recorded or redistributed without express permission. 
/